Rajasthan University Uniraj Result 2023: Official Notification of University of Rajasthan UG & PG Courses BA, BCom, BSc, M.A, B.Ed, MCom, MSc, and all results released. Examination dates for the first year, second year, third year, previous year, final year, first semester, second semester, third semester, and fourth semester exam dates have been released by the University of Rajasthan. Your results are available for download on the official website portal.
Exam for BA, BSc, and BCom 1st, 2nd, and 3rd Year exams from 16th March to 31st May 2023 is offline with an exam duration of 03 hours, Uniraj 2023 result is expected to be announced officially as marks page at https://result.uniraj.ac.in/ and https: //uniraj.ac.in/ By the end of June 2023, to download or check the person will have to provide the registration/roll number and date of birth.
Uniraj Result 2023
The University of Rajasthan has conducted UG and PG Part 1, 2, and 3 exams, in which many candidates have registered. For BSc, BSc, BCom, MSc, MSc, and other UG/PG courses, the University of Rajasthan administers the Annual Examinations. After completing the exams, RU has started evaluating the answer papers, and they have already completed the University of Rajasthan 2023 result preparation.
According to the information we have, Uniraj BA result 2023 will be announced first, followed by the results of PG courses. The official website is "result.uniraj.ac.in", where you can view grades or marks and results. However, you can check UNIRAJ Result 2023 using the direct link that has been provided below.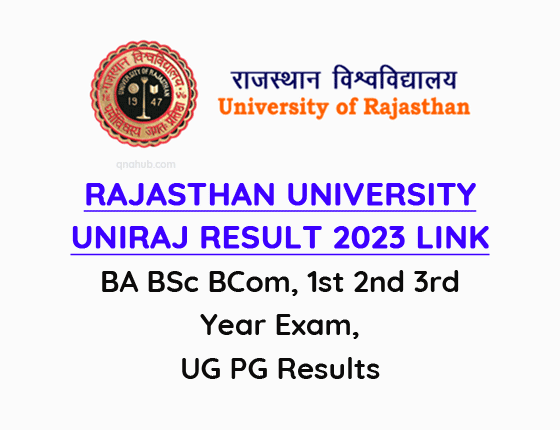 Rajasthan University Uniraj Result 2023 Details
University Name
Rajasthan University, Jaipur
Exam Name
Rajasthan University UG PG Exam 2023
Courses
BA, BSc, and BCom (UG and PG)
Uniraj 1st, 2nd, 3rd Year Exam Date
16 March to 31 May 2023
Exam Maximum Marks
100
Minimum Passing Marks Required
33
UNIRAJ Result (Expected Date)
June 2023
Category
Result
Official Website

uniraj.ac.in

|

result.uniraj.ac.in
result.uniraj.ac.in University BA BSc BCom 2023 Result Link
To check Uniraj BA, BSc, and BCom results 2023, students can visit the official website www.uniraj.ac.in. The university will provide a results-specific link, where students can enter their roll number and other details required to access their individual results. It is important to ensure accurate information to retrieve results correctly. The website will display the marks obtained in each subject, total marks, overall percentage, and grade or section.
Rajasthan University Uniraj Result 2023 For UG PG
Prepare to check your results UG/PG Part 1, 2, and 3 students enrolled in connected colleges or on campus.
This is to let you know that the exams have just been completed and now you can access them using the uniraj.ac.in a Result, the 2023 UG PG link is provided below.
With your roll number, check your marks, then download the mark sheet.
Fill in the online application form for a reevaluation of results if you fail in any subject.
The same site will then post the revised results, which you can access by entering your roll number.
Rajasthan University Uniraj Result 2023 For MA, MSc, MCom
The university offers a variety of graduate programs, including MA, MSc, MCom, and others.
Many people take these courses and subsequently take theoretical and practical exams.
Each subject had 100 marks, of which 33 were necessary to pass the exam.
Uniraj PG 2023 MA, MSc, and MCom Result Announcement will now display your score. The official website where you can receive updates regarding Uniraj PG Result 2023 is

uniraj.ac.in

.
How to Check Rajasthan University 1st 2nd 3rd Year Exam Result 2023 Online?
All the crucial and necessary steps required to download UNIRAJ Result are mentioned below:
Firstly, visit the official website of the University of Rajasthan RU Website – www.uniraj.ac.in.
On the home page, find the "Exams" section or the "Results" section.
You will find a link for the 1st, 2nd, and 3rd-year exam results for 2023. Click on this link.
After selecting the appropriate options, enter your

roll number or other required details

as mentioned on the page.
After checking your marks on this page, download the marksheet.
The system will process your information and display the University of Rajasthan examination result for the respective year on the screen.
How to Apply for UNIRAJ Result Duplicate Mark Sheet 2023?
In case students need to apply for a duplicate of the UNIRAJ Result 2023 mark sheet, they can apply for it online. While applying through their website, students need to pay a certain fee of Rs. 400/ to receive a duplicate copy. Here are the steps to apply for a duplicate mark sheet:
First, visit the official website of OnlinePayment form link –

https://earxiv.uniraj.ac.in/FeeOnline/

Determine the specifics of the type of form you want.
Fill in the information with the correct credentials details by the form.
After completing the form, upload the required documents such as:

proof of address
the required mark sheet
your signature (documents must be in JPEG format)

After successfully uploading the documents, click on "Save and Continue" and proceed with the payment
Pay through online mode and check your payment status.
UNIRAJ Result 2023 Revaluation Process
Revaluation forms and fees are submitted online only. Students are required to take out the printout of the form, submit the fee and send it along with a copy of the results to the University Registrar's Office. Students can submit requests for reassessment to the centers mentioned below:
Student Information Center, Sardar Patel House, Rajasthan University, Jaipur.
Commerce College, Rajasthan University, Jaipur
Rajasthan College, Rajasthan University, Jaipur
Maharaja College, Rajasthan University, Jaipur
Maharani College, Rajasthan University, Jaipur
PG School of Social Science, Rajasthan University, Jaipur
PG School of Commerce, Rajasthan University, Jaipur
PG School of Humanities, Rajasthan University, Jaipur
Rajasthan University 1st, 2nd & 3rd Year Supply Exam 2023
The University of Rajasthan is conducting supplementary exams for first, second, and third-year students in the year 2023. These exams provide an opportunity for students who were not able to clear certain subjects in their regular exams.
Supplementary exams aim to help students improve their academic performance and avoid any delays in their education. The university will announce the schedule and other details regarding supplementary examinations on its official website. Students are advised to stay informed and prepare accordingly for these exams.
UNIRAJ Result 2023 Direct Links to Check